INTRODUCTION :
Park View City is the biggest project in Islamabad, at the prime location of Jinnah Avenue. It offers a Huge range of Residential, Commercial, and Retail shops with all modern amenities. The five-star hotel in Pakistan is just the beginning. Parkview City will contain many other attractions, including an art museum and a theme park!
Park View City islamabad is undoubtedly the most lovely housing Society in Islamabad, nestled among the Margalla Hills. However, as more individuals move into Park View City, the commercial property in society's main commercial area will have the most outstanding value. As a result, today's downtown commercial is one of the finest commercial investment opportunities in Islamabad.
Downtown Islamabad
The most exclusive commercial site in the Downtown Commercial Area, Islamabad's Park View City, has launched. The commercial zone comprises 6 and 8 marla commercial plots surrounded by a 100-Kanal lovely lake with dancing fountains.
Park View City Islamabad is determined to bring unique and exciting experiences to its valuable clients. For this purpose, Park view city commercial area named Downtown Islamabad will be the next landmark of twin cities.
Park View City, Islamabad Downtown Commercial project, is a similar project to Dubai downtown. But, again, it's a high-end commercial property with the best specifications and design.
Downtown Islamabad is going to be the home of famous brands and outlets. A lake of 100 Kanal will be in the mid of downtown. Moreover, it will have Islamabad's first IMAX cinema.
Commercial buildings were invested at the start of this year. Five of the Commercial building are under construction, and many other Commercial building and apartments will be brought in 6 months. Soon this place will be flooded with brands & people. The start of commercial activity will bring new opportunities.
Downtown consisted of Space of Aces, flourished apartments, Cine Star Imax, Library, Spa & leisure, Park view shopping mall, Cineplex 3D Visual, and Sound System, Grand Mosque, International School System, Club, and Community Center, Security room for monitoring all the activities in Downtown Commercial.
Location
The downtown commercial of Park View City is located close to Sector J on the main 200ft broad avenue Road. Because this is society's main arrival point from Kurri Road, it will be the community's business center.
Park view city downtown Development Status
Downtown Commercial Area is currently being developed, and construction has recently begun on several plazas. The organization provides possession on a 25% down payment, so you can reserve your plot and start building your commercial plaza right away.
Park view city downtown Downtown Commercial Map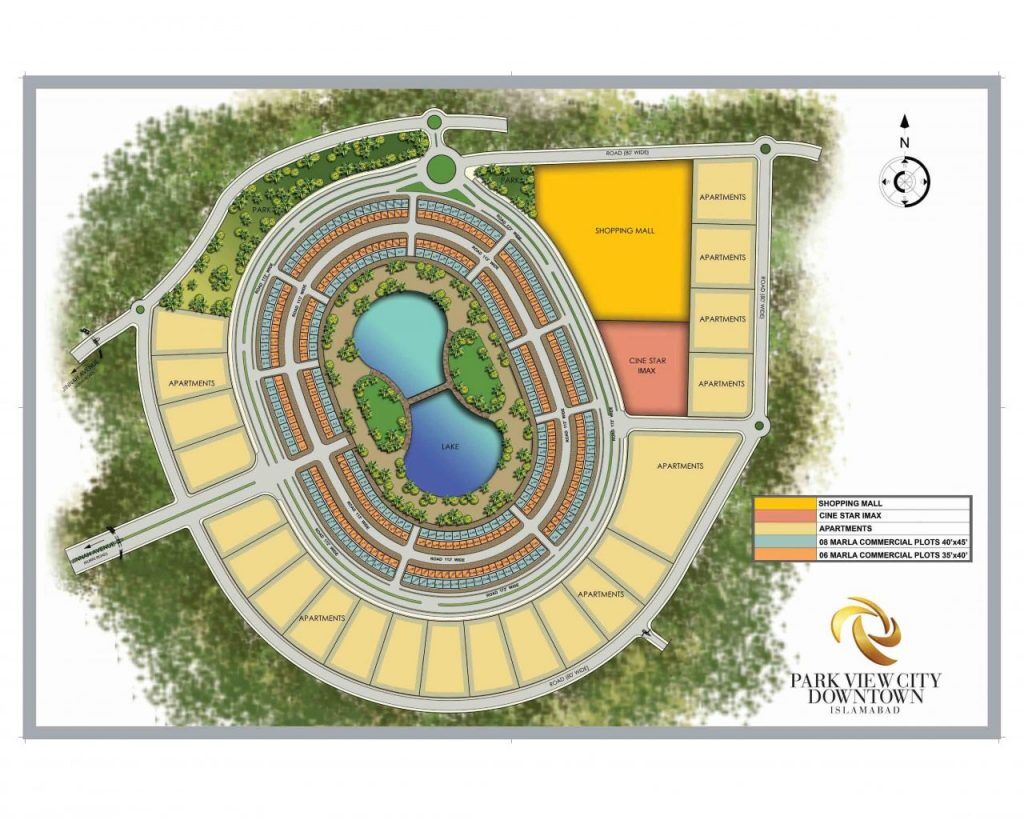 Park view city downtown Layout Plan
Downtown-Commercial-Layout-PlanDownload
On the commercial map, plot numbers are shown. For example, 8 Marla Commercial plots are located in Lake facing, while 6 Marla commercial plots face the inner 113 ft broad roadside.
6 and 8 Marla Commercial Plot:
Park View City downtown will be the first Downtown in Islamabad and feature a 300 Kanal beautiful lake in the center with green and lush hills. This downtown will be one of a kind and home to famous and renowned brands and eateries.
These exclusive commercial plots front will be facing the Lake, providing a perfect view. Our 6 OR 8 Marla commercials plots are the best deal in the market you will get with delivering great value.
Prices and Payment Schedule Downtown Commercial
On a first-come, first-served basis, Downtown Commercial plots are offered for booking with a down payment of 25%, followed by six equal quarterly payments.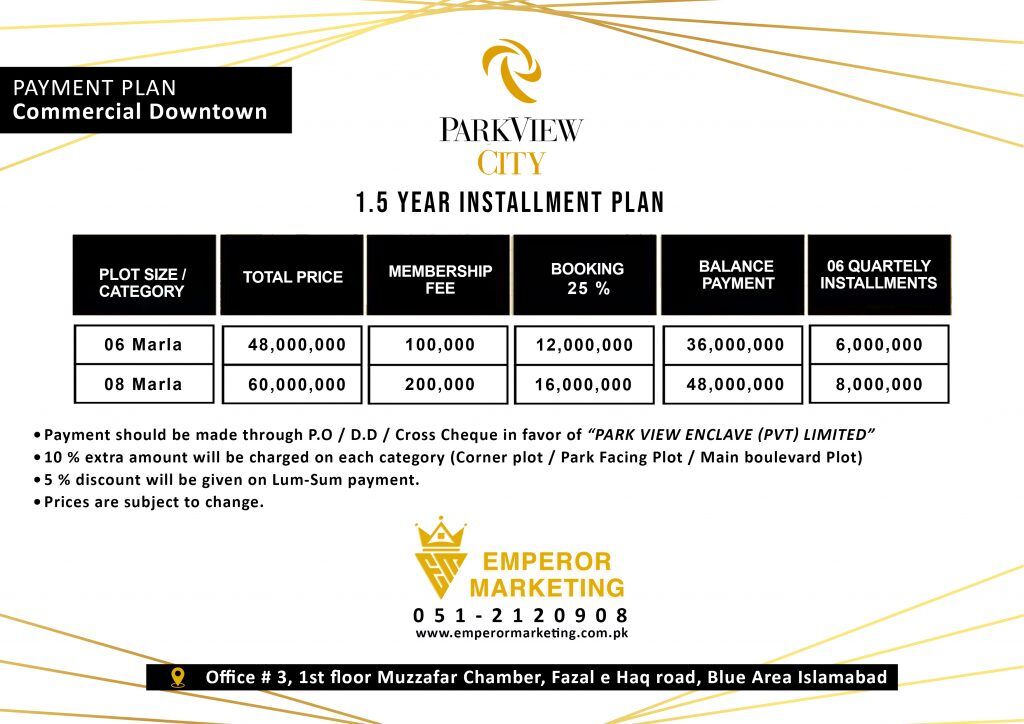 NOTE: Please be advised that in the case of a corner or Main boulevard plot, 10% more fees will be applied. Costs are subject to change at any time, therefore make a fast decision. The membership fee is extra to the stated costs and must be paid at the time of booking.
Conclusion:
Park view city Islamabad downtown commercial is a most famous location from a business point of view. Everyone likes to invest their earned money in this place due to its beauty and great investment options. The commercial plots of Park view city Islamabad downtown are very much popular among investors because it has all facility available to grow your business so this area becomes the first choice of all investors
There are hundreds of places where you can invest your money at good rate and in a safe place. But when we talk about park view city's downtown commercial then this really comes first in our mind so if you also want to invest your money in a good location then book your plot early because Only limited plots are available for sale.